Home  ‡   e-books  ‡   writer's blog  ‡   warchalk  ‡   contact me
The Bogeyman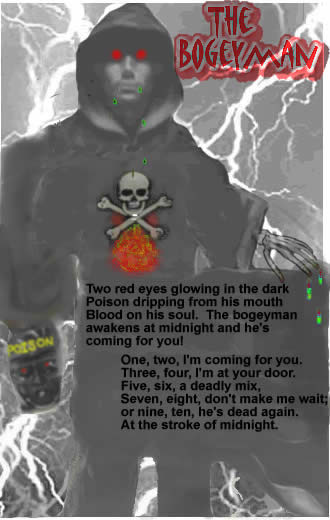 With terrorism taking place against the United States, BOGEYMAN addresses chemical terrorism in America as the heroine and hero are traumatically reunited and must work together, despite their emotional conflict and sensual chemistry, in this romantic suspense. THE BOGEYMAN is for today's readers, easy to identify with a heroine and an irresistible hero in an emotional conflict.
Jacey Dawson awakens from a coma with ten days missing from her memories and her husband murdered, to discover her fiancÚ from a decade ago is not dead as reported. No, impossibly handsome Dare Wilder, with his lethal charm and powerful persuasive scent, is very much alive and keeping her safe at his mountain chalet. When snatches of memories return, Jacey recalls the bogeyman hunts her still. As she tries to figure out her secret enemy, she learns Dare is an undercover criminal enforcement agent with the EPA and she is in his protective custody as his sole witness.
Dare Wilder knows chemical weapons had been launched against the native Great Smoky highlanders. While he waits to discover if Jacey had received a deadly dose, waits for her memory to return, this feisty beauty has Dare wondering just what to guard his witness's body from - a toxic assailant she believes is the bogeyman, or his own needs. Even though she is doggedly determined not to need him, not to love him again, Dare is just as determined to win over this sensual, spirited widow who arouses his protective instincts and so very much more.
THE BOGEYMAN: formerly DARE TO LOVE
Click here or THE BOGEYMAN book cover to read more.
Or CLICK HERE to buy now for only $2.00.