Home  †   e-books  †   writer's blog  †   warchalk  †   contact me
LOVING SHADOW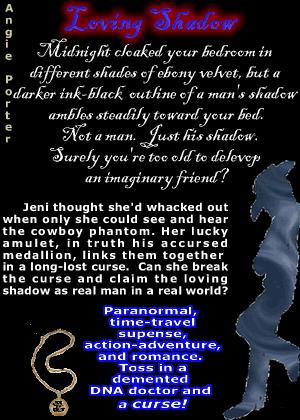 Imagine staring into the cloak of midnight and seeing the solid sable silhouette of a cowboy, your imaginary man's shadow. Bathed in his tender cherishing, you invite him into your subconscious, submerging deeper into slumber and resurfacing with your loving shadow in dreamland. When you awaken and Shadow stays with you in full daylight, but only you see this cowboy phantom, well, you'd think you'd flipped off the ledge of lunacy, huh? And so did twelve-year-old Jeni Linson . . . on the very day she unearths a heavy golden medallion, claiming it as her lucky amulet.
Imagine a man surviving Chivington's slaughter and walking away from life as a full-fledged warrior with only half-Cheyenne blood. He survives as a cowboy and faces the other half of his blood-the Summerfield heritage. A century after a bronzed priestess of witchcraft cast a spell on Shadow, cursing him to live as merely a silhouette of a man, trapping him in a frozen silent land, he belongs to the female child the instant she exhumes his accursed medallion. The antique necklace links them in a long-lost curse.
Although Jeni matures into an avenging angel, can she break the curse by loving Shadow? Can she protect him from her ex-boyfriend turned demented DNA doctor? Can Shadow claim her as a real man in a real world?
Click Loving Shadow book cover, or click here to read more.
Or CLICK HERE to buy now for only $2.00.