Home  †   e-books  †   writers blog  †   warchalk  †   contact me
Listen With Your Heart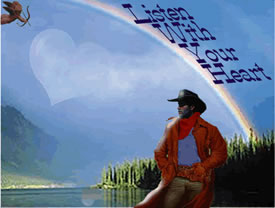 Nicola Northcliffe, Nicki Blaze, is a twenty-year-old stubborn beauty who had spent her life as a tomboy in the wilds of the Colorado Territory-until her father sent her to a fancy finishing school back East. Now a refined lady, she battles against a budding and highly unseemly ache to explore the unknown world of passion. The instant she meets An impossibly handsome gentleman from the ball, Nicola listens to the whisperings of her heart. However, her dream lover transforms into a brutally unpredictable reality . . . and she still wants him for her own. Worse yet, after returning home, she is torn between the tomboy she was to survive in the Wild West, and the lady she has become.

Hunter Coleridge is a sharpshooting fast-gun turned lawman. He hands over his badge and returns to his family responsibilities. He must stop his baby brother before he damns his life to hell. Even if that means Hunter must seduce the mistress, who sells herself and her skills to the richest man, out from under his brother to save him. However, Hunter didn't count on is his dormant heart stirring to life-along with his passions-for a gentle healer, an innocent and very proper lady. He is furious when he learns she is one in the same with the two-timing heartbreaker who intends to marry his brother! Hunter points his dogged determination toward breaking the beauty, after mistaking her for her harlot sister, and follows her to the West. He switches targets and aims to claim her for his own.

In an untamed and dangerous land, their burning desires scorch them-even as their misconceptions rage out of control. Mounting evidence threatens to hang Nicola by her dainty white neck and Hunter is the only man who can save her. All the past misunderstandings can be resolved if only they learn to listen with their hearts.

Click LISTEN WITH YOUR HEART book cover, or click here to read more.
Or CLICK HERE to buy now for only $2.00.